Welcome
to www.ybrfreun.de
Since there are many webpages and forums created by YBR-owners I have determined to create a website for descriptions of bikes which have the »YBR« in their names after I bought my own YBR 125.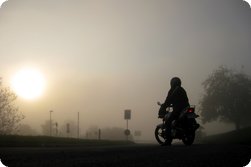 Yamaha YBR 125 in the fog at Heiligenberg (Germany) in 2009
In many cases informative or simply beautiful pictures get lost on free image hosting services or the elaborate alteration-report created with passion for detail disappears in one of the forums because of a provider cancelling the service. Maintaining access to the information and pictures for those who are interested is the aim of this website.
I already realized a similar project about VW busses using LPG as an alternative fuel on
www.gaskutsche.de
.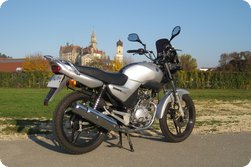 Yamaha YBR 125 in front of Schloss Sigmaringen, in october '09
This offer for the VW T4 has been and is very popular. The feedback via email and forums evaluates that the idea goes down well with the people and is helpful.
Hopefully the Yamaha YBR website can help interested people with hints and tricks, too.
It doesn't matter if it's a 125cc or 250cc bike, neither it's an allrounder or the 'custom' model, nor where the owner is from. - For the very reason that the Yamaha YBR is very popular in the whole world.

Regards and have a good ride,
Martin
Translation from german: BrainOC.